Artlab
Paris, 10ème 2011-2014
In 2011 the initiative was launched in Paris for a laboratory dedicated to robotics development, custom electronics, prototyping and hardware fabrication for artists. An open-door technical support policy was enforced based on technical, conceptual and aesthetic merits of an artist or developer's proposals. With the support of the mayor of Paris the space required to fulfill this aspiration was granted. In partnership with the society Digitalarti emphasis was placed upon the need for community and Open Source practices as a reasonable approach for sustaining an essentially non-profit initiative.
Workshops
Workshops were encouraged among participants at the Artlab. This served as a means of creating economic opportunities for those teaching as well as offering a unique learning experience for the students. Multiple classes from universities and art centers were invited to learn hands-on practice with physical computing. Frequent workshops equally served to grow a network of competence and offer opportunities for newcomers as well as residents and visitors at the lab.
Community Hack Events
Open-door hack events were held once a month, and announced to the public. Anyone curious to participate was welcome. With the resources of the lab at the public's disposal no specific rules were imposed except that people communicate and express themselves less with words and more with craft and experimentation. To allow imagination to flow freely without the constraints of expectation an emphasis was placed on useless innovation, the more absurd the invention the better. By enforcing a spirit of seemingly nonsensical creation a sense of community was sought and encouraged at the Artlab.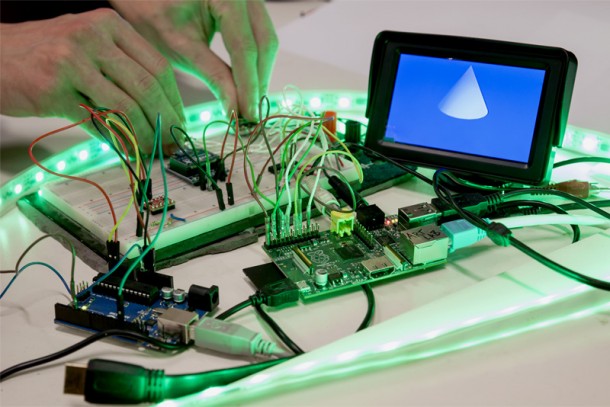 Prototyping and Development
Development and prototyping is arguably at the heart of unique invention. Such practices of experimentation and research of technical materials were enforced as the primary activity in the lab. A think-tank approach was thus achieved by a common physical practice involving assistants, students, resident artists and visitors alike. Open source hardware and software was most utilized for evident reasons of economic feasibility, allowing us to enjoy ourselves in the discovery process. In projects chosen for full production a fluent practice of research and development proved invaluable for managing initial preparations.
Custom Productions
Propositions from local and international artists were accepted at the lab for full production and general development. This offered economic and learning opportunities for those assisting at the lab. No production however was permitted to disrupt other activities or exhaust human and material resources in the lab for any extended period of time. Productions, like residencies, were subject to a limited time period, despite any level of attained success or extended needs for a success yet to be attained. Maintaining a dynamic rhythm in a space dedicated to the cultivation of creative encounters always remained preserved as utmost importance at the Artlab.
Bill (2012)
by Emmanuel Le Cerf
Emmanuel Le Cerf was the first artist in residence at the artlab. The work he produced in 3 months time was impressive. He started by experimenting with stretch textile and vacuum cleaners, but then completely changed focus after the first few weeks. The results of his time as a resident at the artlab was fruitful in the end. Using heat-sensitive receipt paper that he meticulously prepared, he fixed it in a loop to roll endlessly with motors, presenting it as a framed image animation of an airplane flying through the sky. The result is simply poetic.
Water Light Graffiti (2012)
by Antonin Fourneau
Water Light Graffiti was one of the earliest and most successful residencies at the artlab. The artist Antonin Fourneau arrived with a predefined project proposed for development and production for exhibition at the city of Poitiers in France. During a 4 month period we embarked on an intensive mission to bring the project to life. After a very successful first show in Poitiers the project was developed further and has received international renown, now traveling the world showing in arts festivals, museums and innovation salons, and other special events.
Bluer than Blue (2014)
by Stéfane Perraud
Invited by renowned curator of technology arts in France Julie Miguirditchian, Stéfane Perraud took residency at the artlab for the development of his project Bluer Than Blue. The project used ultra-violet lasers to draw patterns into an aquarium filled with phosphorescent gelatin, the displacements of which were controlled by a user wearing a brain sensor. The following video is an interview conducted with the artist at the time of his residency at the lab. Here he explains further the concept and technical requirements of the project (in french).
Upstagram (2014)
by Valentin Squirelo
The project Upstagram was the result of a 6 month residency with developer Valentin Squirelo. At this time the lab was fully equipped to encourage experimentation with embedded devices, in particular the highly anticipated Raspberry Pi. Not swaying from aesthetic and conceptual requirements for projects supported at the artlab, Valentin Squirelo managed to create an elegant tool for communication, lifting him to higher recognition of his talents in the field. By "hacking" Instagram using a floating house to take pictures over Paris then posting these images in real-time he created a buzz in the social network. Achieving a social buzz around the project and it's developer was exactly the goal, and by these standards it succeeded by leaps and bounds, receiving international on-line press.
Raspberry Pi Wifi Car (2013)
by Tom Wersinger
At the time of Tom Wersinger's residency at the lab full development and experimentation was undertaken on the newly arrived embedded system Raspberry Pi. Developers were openly welcomed in residency to test possibilities and limitations of the device. Tom Wersinger with his experiments provided much insight for further possibilities in developments and productions at the lab. His residency finished with the creation of a RC controlled car hacked to be driven from a computer via internet. The featured video presents these results.